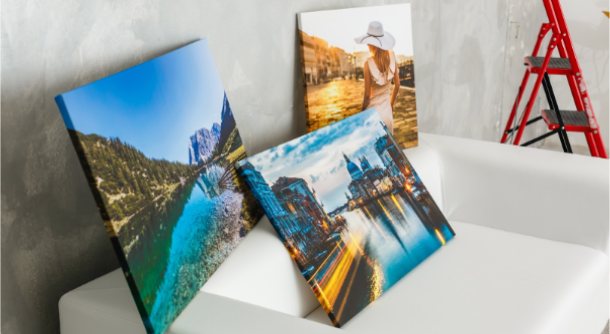 This blog post will explore all aspects of canvas prints and discuss why they are great for creating stunning visual displays.  
How It Works
Creating canvas prints is simple. All you need to do is upload the image of your choice and select a size for your canvas print. 
Printed using the highest quality materials and inks, so you can trust that every canvas print will look amazing!
Canvas prints also work well in the kitchen, one of many great kitchen ideas.
You'll receive your photo canvas within a few days, and you can even have it framed. Canvas prints make a great way of displaying your photos and artwork, so why not give yours the attention they deserve?
Canvas prints come in various sizes, from small to large, so that you can find the perfect fit for your space. And if you need help deciding, What's On Your Wall has canvas prints specialists who are just a click away!
So don't wait—order your Canvas Print today and bring your favourite memories to life!
Best-Selling Sizes Of Canvas Prints
Canvas prints are a great way to bring life to your walls and brighten any space. Canvas prints come in various sizes, making it easy to fit them into almost any area. Let's check out the most popular canvas print sizes. 
Canvas prints are great for small areas and add to any desk or shelf. 
40x30cm Canvas Print size is perfect for adding a unique touch of art to your wall without taking up too much space. 
60x40cm

 canvas prints are the most popular size for a single piece, allowing for a larger canvas without being too overwhelming. 

75x50cm

 canvas prints are perfect for larger walls or creating an eye-catching display when grouped with multiple canvases. 

90x60cm photo canvases are great for creating a large statement piece on any wall. 
120x80cm canvas prints are the most popular canvas print size, providing plenty of room for detailed artwork or photographs. 
150x100cm canvas prints are the largest canvas print available, perfect for creating an impressive display when hung on a large wall. 
No matter what style, size, or space you're working with, photo canvases are a great way to add personality and flair to your home. 
Whether you're looking for the perfect piece of art for your living room wall or want to add some life to a small corner of your home, photo canvases are perfect.
Frame Options for Canvas Prints
When shopping for canvas prints, you'll need to ensure that the print is framed correctly. 
canvas prints come in various frame styles and sizes, so choosing the one that fits your aesthetic and space requirements is important. Some popular options include:
 Metal Frames: Metal frames are a great way to add a modern touch to canvas prints. They come in various colours and textures, so you can choose the one that best compliments your print.
Wooden Frames: Wooden frames are popular for canvas prints due to their classic look and timeless appeal. The wood grain adds warmth and character to any canvas print, making them a great choice for any home.
Gallery Wraps: canvas prints are also available as gallery wraps, which is when the canvas print wraps around a wooden frame. This looks stunning and helps to create an immersive effect with the canvas print.
No matter what style of canvas print you choose, it's important to pick the frame that best fits your space and aesthetic. Canvas print brings life to any room, so it's important to pick the right frame for the canvas print to shine truly.
Built-in Hangers for Easy Display
When it comes to canvas print, you want something that is easy to hang and looks great in any room. That's why our canvas print has built-in hangers to easily display your prints without needing extra tools or hardware.
Hangers are designed for easy installation, and the canvas print is lightweight, so you can easily hang them. Plus, the hangers are designed to hold up to 20 pounds or more, so your photo canvas will stay securely in place for years to come.
So whether you choose an art print from our selection or create your custom canvas print, you can rest assured that it will be easy to hang and look great in any room. With a photo canvas, you can make your space unique and easily show off your style.
Vivid, Fade-Proof Printing
At What's On Your Wall, they use the latest fade-proof inks and printing technology to ensure your prints are vibrant and last through the years. With What's On Your Wall's high-quality canvas print, you can be sure that your images will remain sharp and vivid for a long time.
Canvas print sizes range from A4 to extra large proportions so that you can choose the perfect size for your home or office. We also have a wide selection of frames to match any décor, from classic black and white to modern prints that will make a statement in any room. With a photo canvas, you'll surely capture special moments with stunning clarity.
Options to feature photos, artwork, text & more on Canvas Prints
Photo canvas can feature photos, artwork, text, and more on a beautiful piece.

Canvas prints come in various sizes and can be either glossy or matte.

Canvas prints are perfect for displaying the images you've taken while traveling or showcasing your favorite works of art.

Photo canvas also makes great gifts, allowing you to put your personal touch on the artwork.

Photo canvas can be made from digital photos or printed directly onto canvas using traditional printing techniques for a timeless result.
A canvas print is a perfect solution if you are looking for an eye-catching way to display photographs, artwork, and text.
5 Styles For Any Home Decor
When shopping for wall art, canvas prints are a timeless option that can bring life to any space. Canvas prints come in 5 main styles: modern, classic, abstract, panoramic, and custom. Here's a closer look at each one!
Modern Canvas Prints:
Modern canvas prints are perfect for contemporary homes. They often feature bold colors and geometric patterns, making them ideal for the modern home.
Classic Canvas Prints:
Classic canvas prints are timeless pieces that bring a touch of class to any room. They are usually black and white, with traditional themes such as landscapes or seascapes.
Abstract Canvas Prints:
Abstract canvas prints are perfect for adding a unique twist to your decor. These works of art feature vibrant colours and unique designs that will make your walls stand out.
Panoramic Canvas Prints:
Panoramic canvas prints are great for giving rooms an expansive feeling. These large-scale pieces often take up an entire wall and provide the illusion of added space with their sweeping views.
Custom Canvas Prints:
For something truly one-of-a-kind, custom canvas prints are the way to go. Whether you want to showcase your artwork or a favorite family photo, custom canvas prints are perfect for creating personalized wall art.
Lovingly crafted by hand.
Canvas Print is lovingly crafted by hand, ensuring the highest quality and a product you can be proud to showcase. Every Canvas Print is stretched onto an artist gallery-style frame made from high-grade Canadian FSC-certified wood, making it lightweight and extremely durable.
The canvas is printed with archival inks that are designed to last for generations, making it perfect for family heirlooms. Your Canvas Print will look beautiful in any home or office and make a thoughtful gift that will be treasured for a lifetime. Shop Canvas Print today and bring your favorite memories to life!
By working with What's On Your Wall, you can be sure that your canvas print is produced with the utmost attention to detail, care, and quality. 
We use only the best materials available, ensuring long-lasting prints that will look great for years.
Photo canvas also comes with a satisfaction guarantee, so you can rest assured that your order will arrive exactly as expected. With canvas prints from us, you can be sure that your cherished memories will last a lifetime.
Shop canvas print now and bring your favorite photos to life! With Canvas Prints, you can showcase your fondest memories for generations. Enjoy the free shipping and start bringing your favorite photos to life today!
Standard and Custom-Size Canvas Prints
baby in picture​​
What's On Your Wall offers a wide selection of standard and custom-size canvas print to meet your exact needs. Their high-quality canvases are available in many different styles, colours, and designs to suit any décor. Whether you're looking for an eye-catching wall art piece or a unique gift, What's On Your Wall has you covered.
They also offer custom-size canvas prints to fit any space. Measure the wall space in your home or office and provide us with the details. Our team will work with you to create a Canvas Print that fits perfectly into your décor.
What's On Your Wall, strives to provide the highest quality canvas print at unbeatable prices. All of our Canvas Prints come with a 100% satisfaction guarantee and are backed by our incredible customer support team, who is available 24/7 to answer any questions you may have about your Canvas Print.
Everything looks better and bigger on Canvas.
Canvases are a great way to display your favourite photos and memories. Canvas prints give life to any room and make an unforgettable gift that will stay with the recipient forever. 
The canvas print can be produced in any size so that you can recreate even the most detailed image on premium quality canvas material. Canvas prints look great, whether a family portrait, landscape, or pet photo.
Canvas prints are also perfect for businesses and offices. Create an inviting workspace with a beautiful photo canvas of your company logo or any other image you want to display. Canvas prints can decorate any room, office, or space and always make a lasting impression. Canvas prints are also incredibly versatile and look great in modern and traditional settings.
FAQs
Can I get a Canvas Print of my Photos?
Yes, Canvas prints are an excellent way of displaying your favourite photos. Canvas photo prints come in various sizes and can be customised to fit any space. The team has the expertise to create stunning canvas art pieces that will add charm and elegance to any room. 
They offer different printing techniques, including dye sublimation, UV printing, digital printing, and more, to ensure you get the best quality canvas print for your photo or artwork. So if you're looking for a beautiful Canvas print, let the team help you make it happen!


What Sizes does Canvas Print come in?
Canvas prints are available in various sizes, from 8x12 inches to 40x60 inches. They can also customise Canvas Print in any size you like, favourite photo, or manually stretched, so if you have a special requirement, just let the team know, and we'll work with you to make it happen.
Can I Frame my Canvas print?
Yes – canvas print comes pre-stretched on frames, ready for framing. They offer to frame options such as natural wood, black or white, and various sizes to fit your space. 
If you choose to frame your Canvas print yourself, black edge, all of our Canvas prints are fitted with hanging hardware for easy installation. So no matter what size Canvas print you get, it will always look perfect when hung up on the wall! 
Will the Colors of my Canvas Print Fade Over Time?
No – Canvas prints are printed using archival inks designed to last a lifetime without fading. We use only the best quality materials, and white edges and our canvas prints are made to order with careful attention to detail, ensuring you get the highest possible quality canvas art piece.
 So you can be sure that your canvas print will look as good years down the line as it did when you first got it! 
Can I have my Canvas Print Shipped?
Yes, What's On Your Wall has shipping services for photo canvases so they can be delivered to your door. 
The team's canvas prints come securely packaged to arrive safely at your home or office. If you need it sooner, they also offer express shipping for canvas prints. 
Just let them know the canvas sizes, and their team will make sure your canvas prints get to you on time!
Does canvas printing come with a guarantee?
Yes – all of their photo canvases are backed by a 100% satisfaction guarantee. If you're not completely satisfied with your canvas art piece, return it to them within 30 days of purchase, and they will issue a full refund.
 That way, you can purchase canvas photo prints with peace of mind knowing that if anything goes wrong, you're covered. 
Conclusion
I hope this article has given you a better understanding of photo canvas and its benefits. Photo canvases are an excellent way to bring your favorite memories to life in vivid detail, allowing you to fill your home with color and personality.
Canvas photo prints are durable, easy to hang, and require no additional framing or matting, making them a great investment for any art lover. With so many options available, you're sure to find something that perfectly fits your style and budget. 
Canvas prints will always look great, no matter the size or shape. Canvas prints are a great way to make your photos come alive! Get your Canvas print today, and never forget those special moments.
Marcus McDonnell is a full-time blogger and product researcher specializing in product reviews targeting products for online customers worldwide. As of today Marcus has researched over 20,000 products and is counting, trying to find that new product that is starting to trend.
Canvas prints work also work in the kitchen, one of many kitchen ideas