Personalised Photo Canvas Prints 
What's On Your Wall specializes in creating high-quality Photo canvas prints and wall art for your amazing photos. Our choice of modern printing techniques coupled with a huge range of vibrant colors. So we are able to deliver amazing definitions with each and every piece of wall art we print.
Because our expertly crafted photo prints are constructed using wood from sustainable sources. So we provide robust solid wood frames. Because all of the materials and inks used in our products are environmentally friendly. We deliver your canvas direct to your door within four working days of you placing an order with us. 
Great Print Quality
Range of Shape & Sizes
Free Shipping
Low Price Guarantee
You can Also Check Our Personalised Birthday Banners
View full details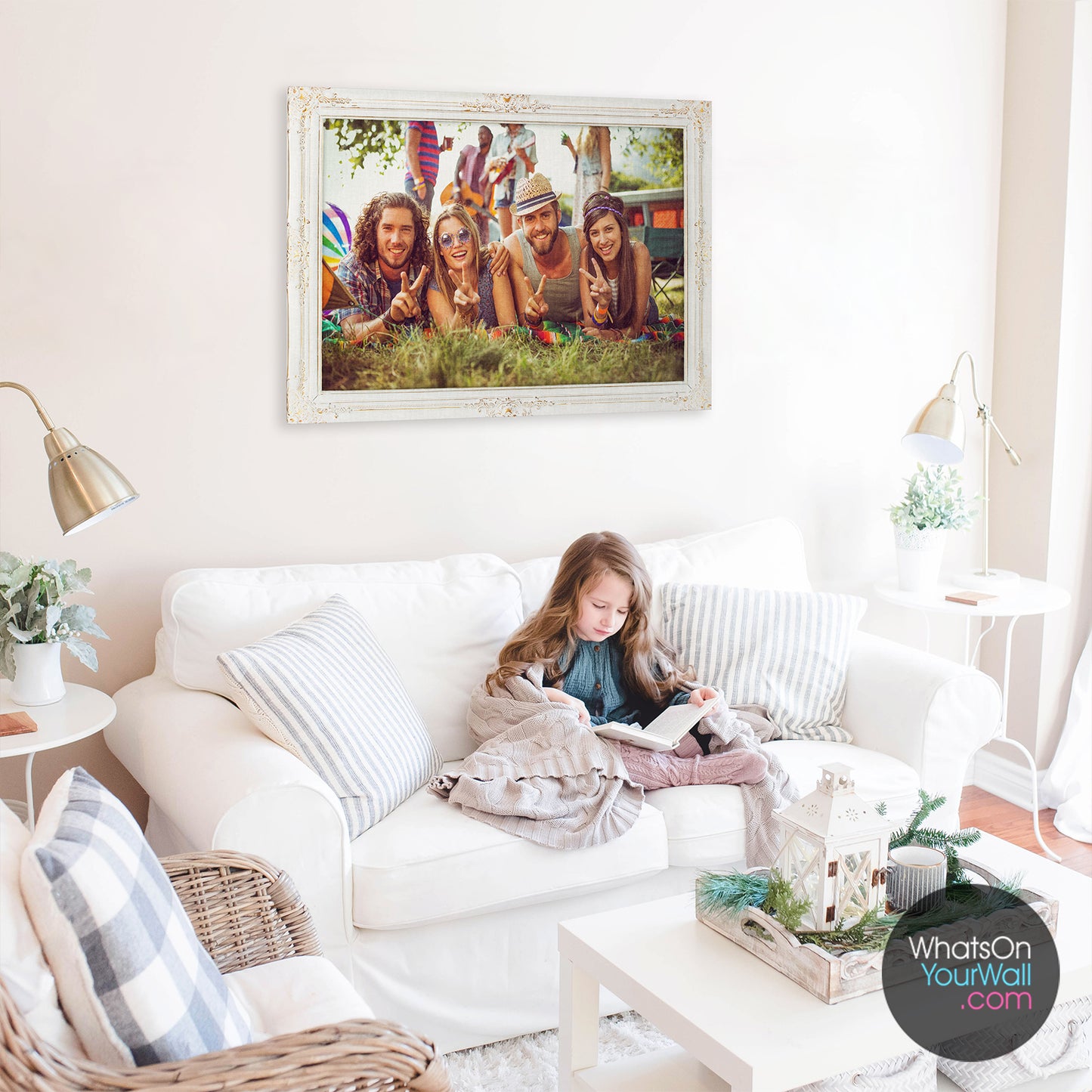 Create Your Own Personalised Photo Canvas Prints
You can order your canvas print in a few simple steps...
1. Select the size
We offer a wide range of canvas dimensions to suit all wall spaces and budgets. Choose between canvas widths and heights, starting at 20cm x 30cm and extending to 100cm x 150cm.
2. Landscape or portrait
Our 'dotted-line' cropping tool indicates the exact edges of your canvas photo print. View your canvas in portrait and landscape to select the best-fit layout for your image/collage.
3. Looking for custom-size photo canvas prints and having difficulty using our cropping tool? If so then we can also offer to complete the cropping process on your behalf (just select this option in the 'Create Now' section and leave any comments in the pop-up box). We're here to help you to achieve outstanding results within your budget.
Size Guide
Landscape
30x20cm
45x30cm
60x40cm
75x50cm
90x60cm
120x80cm
150x100cm
Portrait
30x20cm
45x30cm
60x40cm
75x50cm
90x60cm
120x80cm
150x100cm
Square
20x20cm
30x30cm
40x40cm
50x50cm
75x75cm
Shipping costs and delivery times
 What's On Your Wall offers Free Shipping for Our Photo Canvas Prints. The standard delivery time is 4 working days. If you would like a faster delivery option then we also offer Express Delivery! Please get in contact with us if you need your photo canvas printed faster. Remember, no matter how many products you order from us, we'll only ever charge you one single delivery amount!
Get a free hanging kit
Cut out the frustration of trying to align your frame with the help of our purpose-designed multi-point hanging accessory.
Easy to Use
Free alignment hanging system
Free Shipping
Canvas Photo Prints - Best Printing Techniques
Making your Photo Canvas Print
Printing the canvas
Our modern photo canvas printers recreate your amazing photos to the exact dimensions. Our purpose-designed printers ensure your canvas benefits from sharp flawless definition across the entire frame. We print your canvas using a wide range of vibrant colours, providing outstanding depth, rich tones, and unbeatable clarity.
We print your photo canvas prints with the latest printing techniques in our modern printing facilities. Because of our high standards for quality and our passion for printing canvases, we only use the best printing techniques available. Thanks to our 10-colour printers, all canvases are printed razor-sharp with vibrant colours.
Stretching your Photo Canvas Prints
In the next step, we begin by stretching the canvas to the perfect tension. We take the time to create a balanced canvas made from evenly stretched high-quality fabric. All of our canvases come with a 10-year stretch guarantee.
We only use the very highest quality materials when manufacturing our canvas prints. You will see that your canvas will have brilliant colour reproduction and that the colour depth is incredible! Your photo on canvas will also be fully water-repellent as well as scratch resistant, so you can carefully dust it off with a damp cloth when necessary. We want to ensure that you can enjoy your canvas wall art for many years to come! For more information, see how to stretch a photo canvas print.
Free Shipping
At Whats On Your Wall, we want our customers to have the best experience when visiting our store. So we feel that we should pay the shipping costs, not our valued customers.
What's On Your Wall offers a full money-back guarantee, with a free replacement service if you spot any flaw in your canvas. Here are five reasons why you should choose What's On Your Wall for your next canvas print:
Free Shipping
Free hanging kit
Low price guarantee
Money back guarantee
Fast UK delivery - next-day delivery available