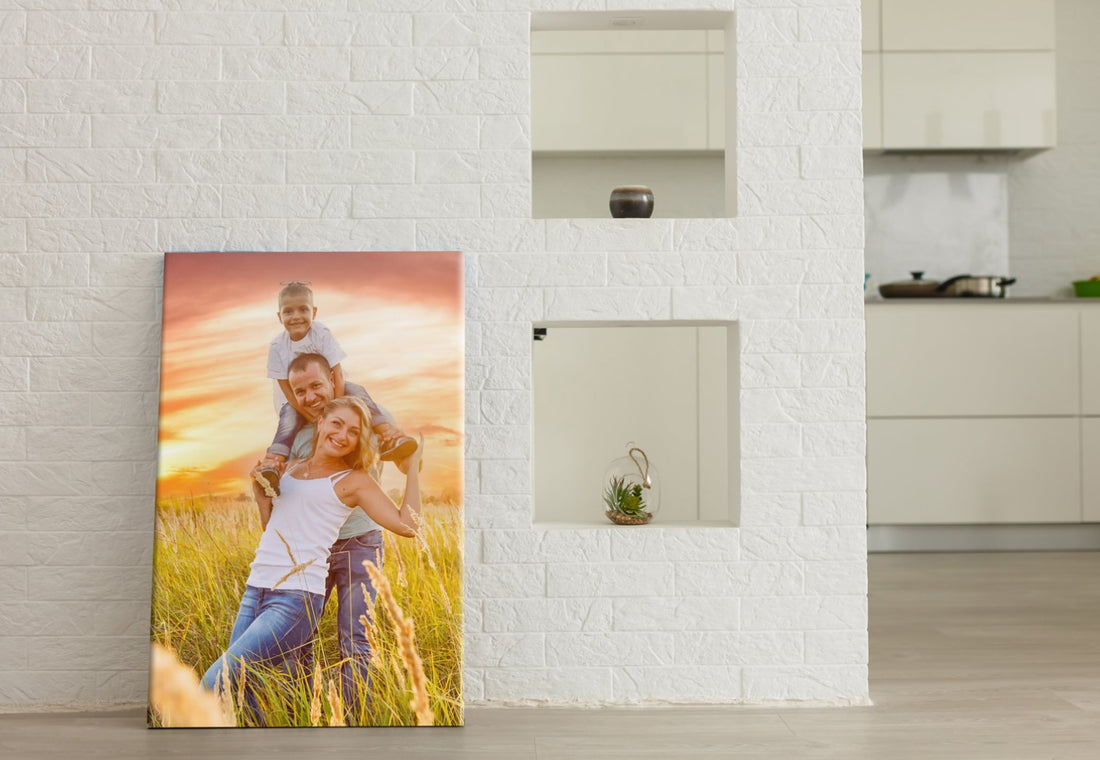 Personalised Canvas Prints as Gifts: Ideas for Every Occasion
Are you looking for a unique and personal gift for a loved one? Look no further than personalised canvas prints! With the ability to transform favourite photos into stunning canvas wall art, photo canvas prints are the perfect way to celebrate any occasion.
In this comprehensive guide, we'll explore the importance of personalised gifts, delve into the world of canvas prints, and share many ideas for creating the perfect canvas print for any event.
Importance of Personalised Gifts
Personalised gifts add a special touch to any occasion, making the recipient feel truly cherished. By customising a gift to reflect someone's personality, interests, or memorable moments, you can create a presentation that will be treasured for years to come. Offering a personalised canvas print demonstrates thoughtfulness and provides a lasting memory that can be displayed and admired daily.
Why Choose Canvas Prints
Canvas prints uniquely showcase treasured photos, turning them into beautiful, premium-quality art pieces. They're visually stunning but durable and versatile, making them an ideal choice for a personalised gift. Canvas prints provide a modern alternative to traditionally framed photographs, allowing you to create customised wall décor.
Canvas Print Basics
What are Canvas Prints?
Canvas prints are images printed onto canvas material, stretched over a wooden frame, creating a vibrant, eye-catching piece of wall art. The canvas printing process allows for a high level of detail and rich colours, resulting in a stunning final product. Canvas prints have gained popularity in recent years due to their versatility, ease of creation, and affordability.
Types of Canvas Material
Canvas prints can be made using various types of canvas material, such as cotton or polyester. Both options offer excellent results, but some may prefer the texture and feel of one over the other. High-quality canvas prints will often blend both materials for the best outcome, ensuring a balance of durability and visual appeal.
Benefits of Canvas Prints
Canvas prints have several advantages, including:
Durability
Canvas prints are known for their durability. The materials resist fading and can withstand the test of time, ensuring that your personalised canvas print remains pristine for years. Canvas prints also benefit from being moisture-resistant, making them suitable for various environments.
Versatility
Canvas prints can be displayed in various settings, from homes to offices, adding a touch of personal style and flair wherever they're hung. They come in various sizes and shapes, making them suitable for any space. Canvas prints can be easily hung using a hanging kit, allowing for a seamless installation process.
Aesthetics
Canvas prints offer a professional and polished look, elevating the appearance of any photo. The depth and texture of the canvas material create a visually appealing piece of art that can complement any home décor. With various styles available, including single canvas photo print, collage canvas prints, and custom canvas prints, you can create the perfect wall art to match your taste.
Canvas Print Ideas for Every Occasion
Birthdays
Milestone Birthdays
Celebrate milestone birthdays with a custom canvas print featuring a fewer photos collage of the birthday person's most memorable moments or a single custom canvas print highlighting a favourite photo from each decade. Personalised canvas prints allow you to capture the essence of someone's life, making for a truly meaningful birthday gift.
Zodiac Signs
For astrology enthusiasts, create a personalised canvas print featuring their zodiac sign and a meaningful quote or affirmation. These canvas prints can be a unique and thoughtful way to celebrate someone's astrological identity, providing them with a constant reminder of their strengths and qualities.
Personal Achievements
Honor personal achievements by gifting a canvas print that showcases a significant accomplishment or milestone in the recipient's life. Whether it's a photo of them completing a marathon, graduating from university, or receiving an award, a personalised canvas print reminds them of their hard work and dedication.
Weddings and Anniversaries
Couple's Portraits
Turn a favourite photo of the happy couple into a beautiful canvas print that can be displayed in their home. Choose a photo from their wedding day, an engagement shoot, or a casual snap that captures their love and commitment to one another.
Wedding Vows
Transform the couple's wedding vows into a custom canvas print as a daily reminder of their promises to each other. Combine the text with a meaningful image or symbol for a truly one-of-a-kind gift.
Memorable Moments
Celebrate the couple's love story by creating a collage canvas print featuring their most cherished memories, such as their first date, proposal, or honeymoon. This thoughtful gift will allow them to relive these special moments whenever they see the canvas print.
Baby Showers and New Parents
Baby's Ultrasound Image
Turn the baby's ultrasound image into a touching canvas print, giving expectant parents a treasured keepsake of their unborn child. This unique gift idea will surely be a hit at any baby shower.
Nursery Art
Design a custom canvas print to complement the theme of the baby's nursery. From cute animals to whimsical landscapes, the possibilities are endless. A personalised canvas print can add a finishing touch to the nursery and be a cherished wall art for years.
Baby's Name and Birth Date
Create a canvas print featuring the baby's name, birth date, and other important details such as weight and length. This personalised gift will be a treasured keepsake for the child and their parents.
Graduations
Graduate's Portrait
Transform a proud graduation photo into a stunning canvas print, providing the graduate with a lasting reminder of their academic achievements. A high-quality canvas print can be displayed in their home or office, reminding them of their hard work and dedication.
Inspirational Quotes
Create a custom canvas print featuring an inspirational quote or message that will motivate and inspire the graduate as they embark on the next chapter of their life.
Holidays
Family Holiday Photos
Turn family holiday photos on canvas prints that can be displayed and enjoyed year after year.
Seasonal Themes
Create a festive canvas print featuring seasonal themes, such as a winter wonderland or a beach-inspired summer scene.
Travel Memories
Preserve treasured memories from a special trip with a personalised canvas print showcasing breathtaking landscapes, iconic landmarks, or unforgettable experiences.
Housewarmings
New Home Illustration
Gift a personalised canvas print featuring an illustration of the recipient's new home, creating a unique and thoughtful housewarming gift.
Personalised Family Name
Create a canvas print showcasing the family's name or monogram, adding a personal touch to their new living space.
Welcome Signs
Design a welcoming canvas print at the home entrance featuring a warm message or a favourite quote.
How to Create a Canvas Print
Choosing the Right Photo
Resolution
Ensure the photo you choose for your photo canvas print is high-resolution, as this will guarantee a clear and detailed final product.
Composition
Consider the photo's composition, ensuring it's visually appealing and tells a story.
Selecting the Canvas Size and Shape
Standard Sizes
Canvas prints come in a range of standard sizes, from small (20 cm x 20 cm) to large canvas prints (120 cm x 80 cm), making it easy to find the perfect fit for any space.=
Panoramic
For landscape photos or wide-angle shots, consider choosing panoramic multiple canvas prints. This format allows you to showcase the full scope of the image, making it an eye-catching piece of wall art.
Square
Square canvas prints are ideal for Instagram photos or images with a balanced composition. They offer a clean, modern look that works well in various spaces.
Customising the Canvas Print
Frame Options
Choose between a gallery wrap or a solid wood frame to add a finishing touch to your canvas print. A gallery wrap extends the image around the sides of the frame, creating a seamless appearance, while a solid wood frame provides a classic, elegant look.
Image Effects
Enhance your photo by applying various image effects, such as black and white, sepia, or colour pop. These effects can add an artistic touch to your canvas print, making it a truly unique piece of art.
Caring for Your Canvas Print
Cleaning Tips
Keep your canvas print looking its best by gently wiping it with a soft, dry cloth. Avoid harsh chemicals or abrasive materials, which can damage the canvas and printed image.
Protecting from Sunlight
To prevent fading, avoid hanging your canvas print in direct sunlight. Choose a location that receives minimal UV exposure to maintain the vibrancy of the colours.
Proper Storage
If you need to store your canvas print, place it in a cool, dry environment, away from direct sunlight and extreme temperatures. Ensure the canvas is well-protected and not subjected to any pressure, which could cause damage to the frame or printed image.
Conclusion
In conclusion, canvas prints offer a versatile and personalised gift option for any occasion. With a wide range of styles, sizes, and customisation options, you can create a truly unique piece of art that will be cherished for years.
Whether a birthday, wedding, or housewarming, a personalised canvas print is a thoughtful and meaningful present that will leave a lasting impression. So, why not start exploring the world of premium canvas today and create a memorable gift for your loved one?
Marcus McDonnell
Home is where the health is! I'm here to tell you about all the awesome products that can help make life easier, healthier and more peaceful.